General
Information
Schinousa has two settlements, Chora and Mesaria.
The settlement of Chora is built on a high ground on the mainland of the island and is located 1,2km from the port.
In the past, the island suffered many damages from pirate attacks. For this reason, the people built the village of Panagia, as they call the Chora , named after the church of Panagia Akathis, on a high ground to have better visibility towards the sea. The houses are built according to the traditional Cycladean architecture.
The second settlement , Mesaria, is as picturesque and fascinating. Here one can visit the church of Evagelistria, which is 3km from Chora.

Schinousa is small promising paradise, awaiting to be explored.
Tourism in
Schinousa
Over the last years, our island is visited by more and more tourists who seek quiet places with unspoiled beauty to spend their holidays.
Tourist facilities in Schinousa satisfy all visitors' needs and offer them all modern comforts.
The island's natural beauty, the old houses and its two windmills, make Schinousa stand out from all the other islands of the Small Cyclades…it has 15 beautiful beaches with clear crystal water and endless sandy shores that enchant every visitor. Touring the beaches is a pleasant surprise. From the port, we can find the beaches of Mersini, Tsigouri, Livadi, Psili Ammos, Almiros, Aligaria , Gerolimiona and others.
Connection with Piraeus
Very frequent connection to Piraeus via the line: Paros - Naxos - Iraklia - Schinoussa - Koufonisia - Katapola.
Connection with other islands
Schinousa is connected daily with the port of Naxos,the rest of Small Cyclades and the island of Amorgos via local ferry routes.
Ferries & Online Reservations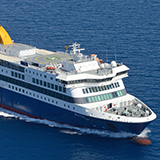 Ship timetables
View all ferry routes to and from Schinoussa island in Blue Star Ferries website.